Thunder Lake is a clear, deep lake with 30 miles of shoreline and lots of structure for the serious fisherman to work. In 1992 a 33 pound northern was taken from the lake! We can't guarantee one of those but you will find excellent populations of walleye, crappie, largemouth bass, bluegill, perch and trophy smallmouth bass and northern pike just waiting for you to challenge them. While the bite for all species is pretty good all summer long, the spring bite in June and fall bite in October are especially the best for trying to get some walleyes.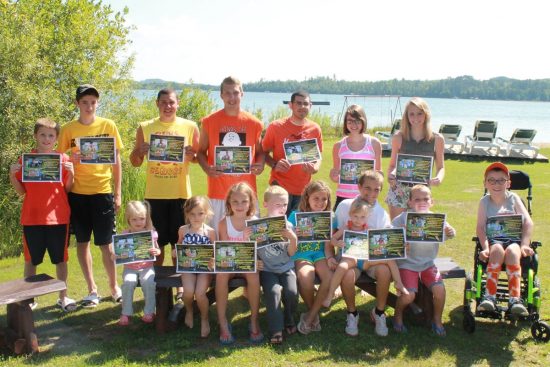 Weekly Kids Fishing Contest!
Kids Fishing Contest at Thunder Lake Lodge
The Kids' Fishing Contest is a special time on a Thunder Lake Lodge vacation. With parents, grandparents, brothers, sisters, aunts and uncles cheering the troops on, it can be quite an exciting time! Kids catch lots of sunnies, crappies, perch, and rock bass. Occasionally a walleye, northern, smallmouth, or largemouth bass are also caught during the contest
Every week kids of all ages test their angling skills from the docks for 30 minutes of competitive fishing. The following day, we hold a ceremony to recognize the accomplishments of all the contestants. You never know what they might catch (or how!)

In August of 2017, on the day of the solar eclipse, the guys from Lake Commandos came to Thunder Lake Lodge to film a largemouth and smallmouth bass fishing segment. The challenge pitted Hall Of Fame angler Steve Pennaz against Bassmaster Magazine editor James Hall. Watch the video to see who won the one-on-one challenge that day. It's also a very educational piece for 1st time fisherman on Thunder Lake.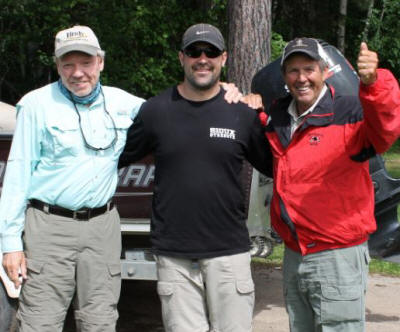 Minnesota outdoors legend and icon Ron Schara discovered Thunder Lake in 2006. He spent an afternoon here promising an assortment of game fish for his efforts and he didn't fail to deliver! He returned Memorial Day weekend in '07 to fish for smallmouth and promptly landed a 20″ smallie. He said he'd return to try for walleye, which he did with friend Dick Sternberg in 2013. Ron has turned into an annual visitor over the years.
Fishing Gallery
From the 6/18/2012 Minnesota DNR "Status of the Fishery" report:

Thunder Lake is a 1,330 acre lake located seven miles south of Remer in Cass County. The shoreline of Thunder drops off rapidly, with only 17% of the lake less than 15 feet deep. The lake is highly developed with 281 homes/cabins and four resorts on 15.9 miles of shoreline. A DNR owned access is located on the west shore of the lake. Water clarity is good, with a secchi depth of 16 feet. A 2012 aquatic vegetation survey found 32 species of emergent and submergent aquatic plants. Maximum depth of plant growth was 25 ft. Protection of aquatic vegetation, especially emergent vegetation, is important for maintaining good water quality and is critical for fish spawning as well as providing cover for fish.
The walleye catch of 7.8/gillnet was above average, and the highest on record. Average size was 16 inches and 1.9 lbs, with walleyes up to 30.4 inches captured. Walleye fingerlings have been stocked in odd number years since 1999, though natural reproduction can be very substantial at times. The 2011 year class is a good example of that. These fish were highly abundant in the fall of 2011 resulting in an electrofishing catch rate of 228/hr. They had a mean length of 7.2″ in the fall of 2011, giving them a competitive advantage over the fingerlings stocked that year (mean length 5.2″). They continued to be present in good numbers in 2012 in spring bass electrofishing and comprised 27% of the gill net catch. An additional 18% of walleyes resulted from other non-stocked years. Growth of walleyes was normal, with eleven year classes present.
The northern pike gillnet catch of 1.1/net was below average, although the size was above average. The average size was 28.2 inches and 5.1 lbs, with fish up to 37.7 inches captured.
A spring electrofishing survey was conducted to sample largemouth and smallmouth bass. Largemouth bass were captured at a run time rate of 104.7/hr. Average length was 13.6 inches with individuals up to 20.0 inches captured. Largemouth were captured in gillnets at average numbers. Smallmouth bass were also sampled at a run time rate of 28.0/hr. Average length was 15.6, with fish up to 19.8 inches captured. Smallmouth bass were captured at above average numbers in gillnets.
The bluegill trapnet catch rate was average at 35.1/trapnet. The average length was a little small at 5.7 inches, with only 10% being seven inches or larger. Growth was slow compared to similar lakes. The black crappie trapnet catch rate was above average at 4.3/trapnet. Average length was 7.4 inches, with 49% being eight inches or larger.
Yellow perch are an important prey species for walleyes and northerns and the 2012 yellow perch gillnet catch of 33.4 was above average, and the highest catch to date. The average length was 6.6 inches, with only 7% eight inches or larger.
Click here for the complete Minnesota DNR Fisheries report and survey of Thunder Lake
as of 6/18/2012.