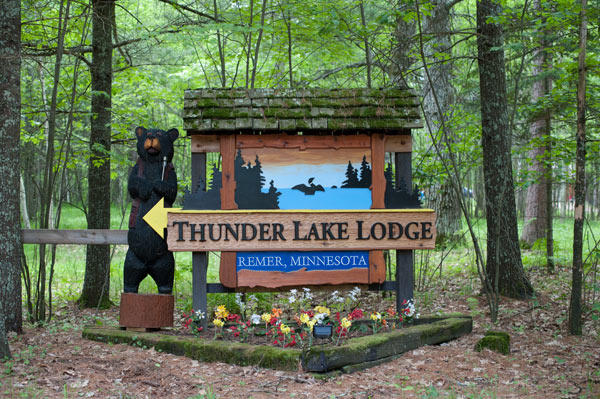 Q: Can I bring my pet?
A: Pets of any kind are not allowed at Thunder Lake Lodge, regardless of size. For those of you who want to be able to board and visit your dog during your stay with us, we do have one nearby within 15 minutes which some of our guests use from time to time during their stay with us for only $20.00/day. Our friends at Pine Pidge have a very nice, new facility. Here is a google search for other nearby kennels if you are interested.
Q: Do you sell fishing licenses at the lodge?
A: We do not sell fishing licenses at the lodge and we encourage everyone to purchase them prior to your arrival. Both Remer and Longville have stores and gas stations where they can be purchased. You can also purchase them online from the Minnesota DNR website at home and print them off ahead of time.
Q: What do you provide in the cabins?
A: Our freshly cleaned & comfortably furnished vacation units come equipped with refrigerator, range, sink, and cabinets. Kitchen is equipped with basic dishes, glasses, silverware, toaster, cooking utensils, coffee pot, and microwave. If there are specific cooking utensils, pots or pans that you need or want, we suggest bringing them. All bed linens, pillows, and extra blankets are furnished.
Q: Do I need to bring my own towels?
A: Yes, please bring your own towels for bath, kitchen and beach. Also remember to bring paper towels if needed.
Q: Can I bring my own firewood to your resort?
A: Because of the threat of transporting invasive species in firewood, we ask that you please do NOT transport firewood here to the resort. Transportation of firewood is legally permitted within Minnesota state boundary lines, as long as it is not coming from a quarantined county or area, or any adjacent county to a quarantined area. General firewood transportation restrictions are posted here. For the most recent quarantine map of Minnesota, visit the Minnesota Department of Agriculture link here. These measures are necessary to help prevent the spread of invasive pests such as the Emerald Ash Borer. We do sell firewood here at the resort. We also provide a complimentary "starter pile" of firewood for every rental unit. If you would like to find a Minnesota certified firewood provider nearest to you, click here. There is one located just south of us near Outing, MN.
Q: Can I bring fireworks to TLL?
A: No fireworks of any kind are allowed at Thunder Lake Lodge. Not even smokebombs or sparklers. It's for everyone's safety.
Q: Do I need to bring toilet paper?
A: We provide the septic-friendly toilet paper.
Q: Is there a charge for day visitors?
A: For the safety of our guests, we require all day visitors to first register at the lodge. The day visitor fee is $20/person/day.
Q: What time is check-in and check-out?
A: Our check-in time is 4 pm on the day of check-in. Our check-out time is 9 am on the day of departure. The entire day is needed to prep your cottage or condo properly for the week. We ask that you please respect our requests on this and not arrive early. During 'off-peak' seasons however, we can work with you on early check-in and late check-out.
Q: Does every cabin have a firepit?
A: Yes, every cabin unit and RV site has its own individual firepit, as well as 2 of the condo units.
Q: Do the cabins and condos have grills?
A: Each unit has it's own Weber grill. Please provide your own charcoal and lighter fluid.
Q: What is the deposit policy?
A: For full week minimums, 50% of the base lodging total is required down to officially reserve a unit. The remaining balance is due upon check-in. There is also a non-refundable 50% deposit required for pontoon and deluxe fishing boat rentals upon booking. 3 night stays or less require full payment down at booking.
Q: What is the cancellation policy?
A: When a cancellation is made, the rental unit is put back out on the market for the general public to rent. If the reservation is filled, we refund the deposit minus a $200.00 rebooking fee will be returned if and only if we can re-rent your unit for the entire period reserved with a new reservation. If the reservation is not filled entirely, the deposit would be non-refundable.
Q: Do you have Wifi Internet Service?
A: Yes, we have a Wifi Antenna located at the lodge that extends signal to most of our cottages and condos. At minimum, everyone has access to it at the lodge. There is no charge for that service.
Q: Will my cell phone get service at your resort?
A: Most cell phone service providers have decent reception here at the resort.
Q: Do you have laundry facilities?
A: Yes, we have 2 coin-operated washers and dryers in the "Looney Bin".
Q: Do you sell bait at the resort?
A: Yes, we sell nightcrawlers, leeches and wax worms. We do not sell minnows, but they can be purchased nearby.